IMPLANTS
Among the longest lasting and most aesthetic restorations, those supported by implants also require careful planning to ensure exact fit of the completed restoration. Precision Dental's staff is well trained and can provide excellent case planning for your next implant case. Working regularly with Nobel Biocare™, BIOMET 3i™ and Straumann® implants, our technicians can fabricate a precise-fitting restoration, which is easy to seat.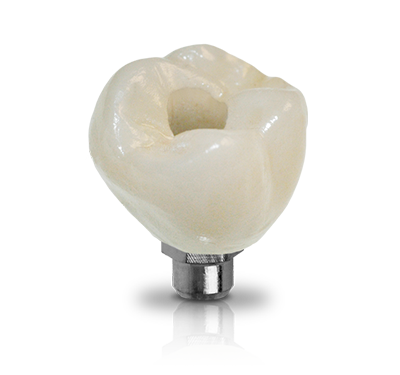 A far less invasive treatment when compared to traditional restorations. Implant-supported crowns target the missing tooth without affecting surrounding dentition. Options include a TI base, PFM or a zirconia one-piece.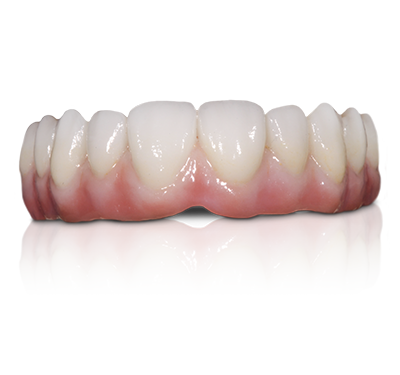 A bridge necessitates expanded stability and strength. Using the same high-quality Prettau® Zirconia as in our FCZR restorations, we build monolithic restorations that will gracefully and precisely replace natural dentition. Prettau® Zirconia's extraordinary level of biocompatibility and impressive beauty is consistent throughout the restoration due to the optimized microstructure.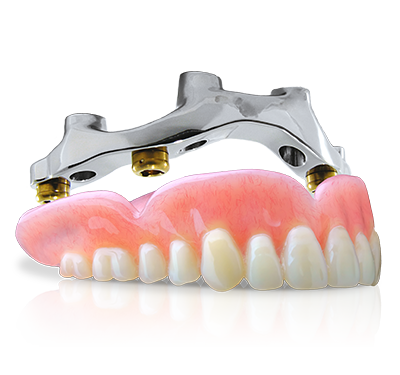 Offering the esthetics of a denture, with the lifelike feel and function of real teeth. Using as little as four implants per arch, the All-on-4 can be implemented the same day of surgery.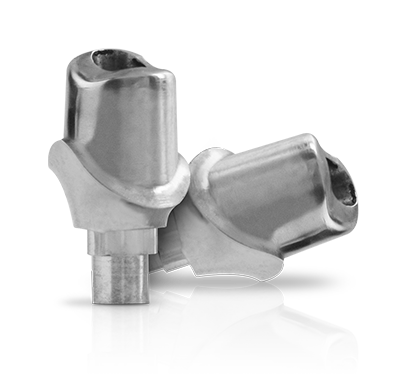 Compatible with most major implants, custom abutments are an affordable alternative to genuine abutment manufacturers. Our custom abutments are designed and produced to meet the needs of individual patient cases.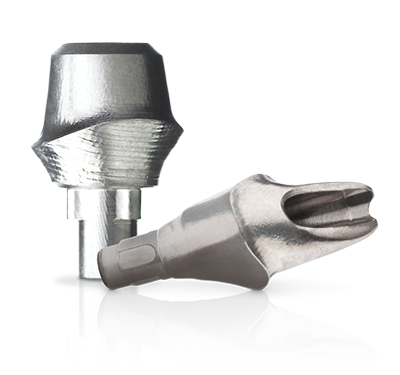 Our genuine abutments provide the most reliable method for seating crowns. We work regularly with UCLA abutments, Nobel Biocare™, BIOMET 3i™ and Straumann® abutments.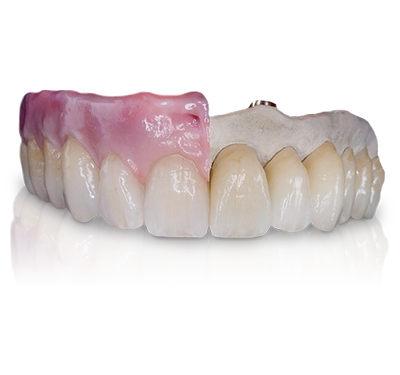 BDT Technique
(Pekkton Supported Bridge)
A light-weight and natural feel for the patient, Pekkton® ivory offers a natural esthetic similar to that of real bone. Its durability and strength outclasses its predecessor, PEEK, offering an 80% greater compression strength.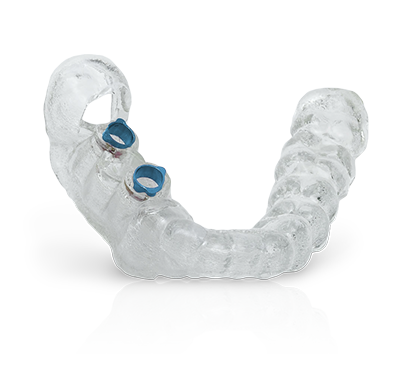 Ensuring the most accurate fitting dental implants, Precision Dental offers surgical guides to clinicians to guarantee a precise fit for every case.